2016 was a difficult year. This was the first time in my life that politics had any kind of real emotional impact.  It was also the first time in my life that I nailed down some bad habits that have haunted me forever. So it was a mixed bag, but personally, a net positive for my lifetime.
Every month last year, with the exception of December, I worked on some kind of art project that was wholly disconnected from my professional practice. In December, I was forced to choose between investing in a project, or spending that time with family. Given the increasingly chaotic schedules of my family and myself, I opted to take December off. I'm highly motivated by unbroken chains of tick-marks indicating the consistency of my discipline. And, I'm very apprehensive to break from my disciplines for fear I may have difficulty putting them back in place. So it was a bitter-sweet decision, but I think it was the right one.
Nevertheless, I am proud of the stuff I made last year. Or, more accurately, I am proud that I made stuff last year. I am more satisfied with some than with others. So, to close out my year of making in 2016, I thought I'd recap my favorites.
Unevenly Shrinking Man & His Dog (January)
The photos from this month, and this photo in particular, proved to by my favorite manipulation of the year. It perfectly captures my fantasy of being best friends with a dog big enough to ride around on and do best-friend things with. And uh, maybe also how I'd like to be a slightly smaller person relative to my world. It's not so much a neat image as it is an adventure I really want to go on.
Stitching Photos (April)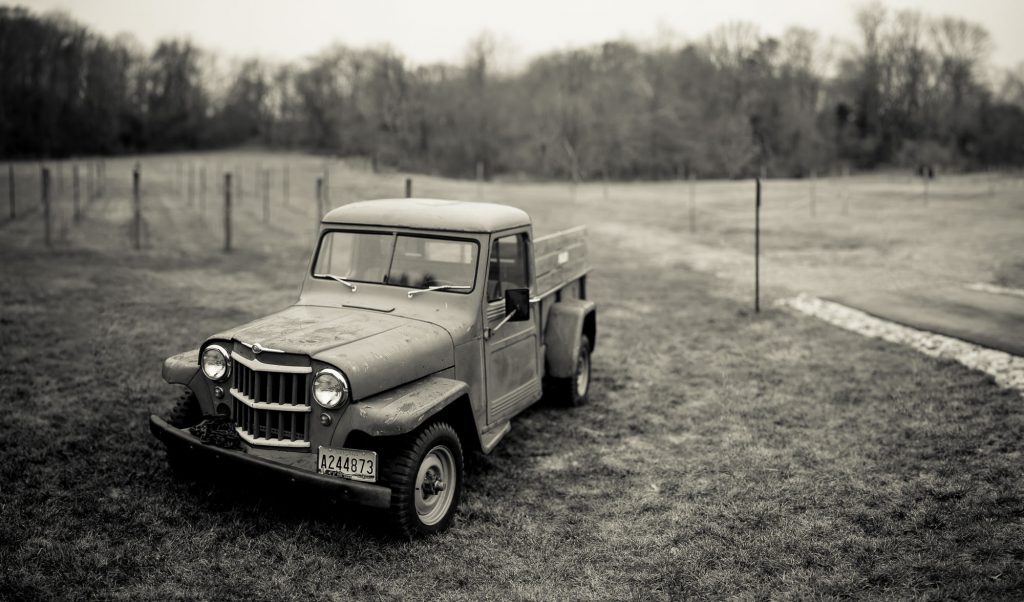 In April I spent a lot of time figuring out a realistic workflow for capturing images on the fly and stitching them together in post to produce an unusually shallow depth of field relative to the focal length; something known as the Brenizer Method. The image above, made up of more than 150 images captured at 200mm with a wide f/2.8 aperture, was my favorite. The stitching was clean, true to the scene, and produced a very satisfying civil-war photography style depth of field. A similar look can be achieved with large format cameras, but not without a lot of money. I was very happy with all of the images from April, but this one stands out as my favorite.
Holding Out for a Hero (July)
Holding Out for a Hero is one of my favorite cheesy 80's songs. It's just perfect. Long before I came to terms with the fact that I un-ironically enjoy Bonnie Tyler's music, I thought it was ripe for someone to come and put a new spin on it. Well, someone did. It was Frou Frou. But, I'm not a big fan of that rendition, so I decided take a crack at it. It was challenging, but I'm very satisfied with the balance between the original and the something-different I came up with.
Editing Ryan & Leah's Engagement Video (August)
Ryan & Leah's engagement video was the only film project I worked on this year. It was intriguing to me because I had no hand in creating the footage I would be using, which was a challenge I've never faced before. The result was pretty much what I'd envisioned after talking with Ryan and listening to the song about a gazillion times. I relied almost entirely on blend mode changes and overlapping clips to string the narrative together into a kind of dreamy music video sequence.
Vacation by the Go Go's (September)
Emboldened by my satisfaction with Holding Out for a Hero, I went back to another song I've long thought I'd play if I ever was magically imbued with musical prowess. I didn't get the music prowess, but I did have some pretty sweet computer software and that was good enough. This time it was Vacation by the Go Go's, a favorite of a 12 year old version of myself. I made something drenched in synth and punchy drums. My favorite part is the last 10 seconds. I was almost tempted to redo the whole thing in that style, but decided it was better as a punctuation mark.
My First Roll of Film in 15 Years (October)
These two images from my first roll of film in 15 years were captured in between duties at a wedding. I asked if we could take a second for me to get a photo on film, and immediately after taking the first picture, the groom informed me that he probably blinked. I'd set my own rule not to retake photos with the film camera, but broke that rule, convinced the shot would be worth it. So I took a second shot, and this time the bride blinked! I didn't discover the second botched shot until the photos came back from the lab. It formed a perfect contrast between my digital photography habit and my film habit, which gave me a good laugh.
The Drone (November)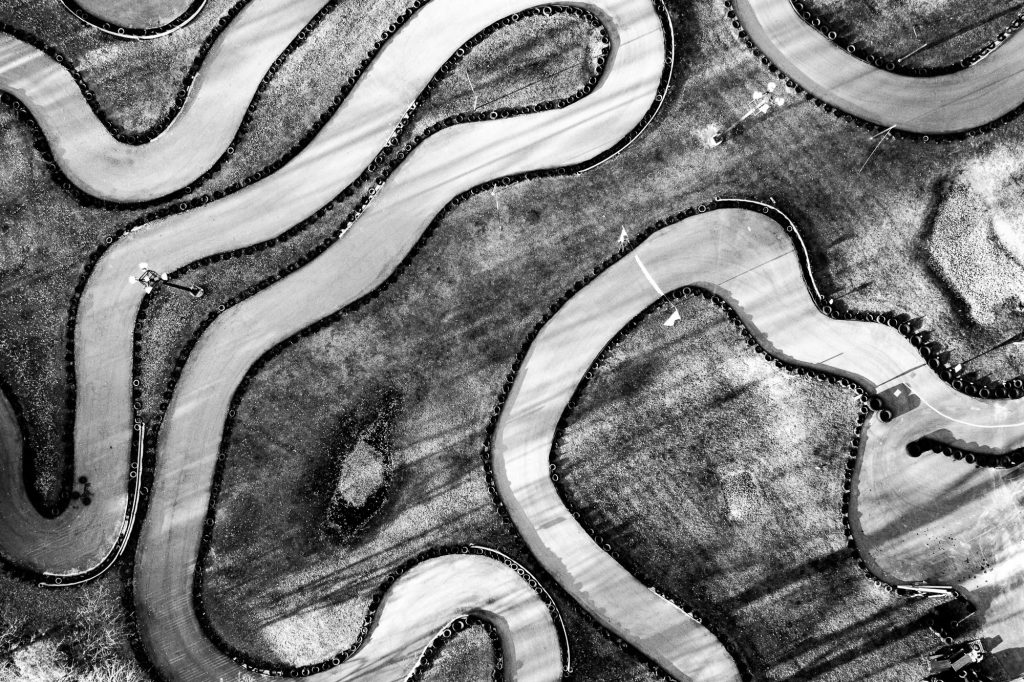 I finally bought a drone in November of last year and spent the month (and some of December) looking for new and interesting angles that hadn't occurred to me might exist. The photo above is one of my favorites because while it's clear, it's a bit obscure until you study it for a few moments. It's also a favorite because the day I captured this image was very windy. The drone was setting off alarms about the wind and making me very nervous. I didn't want the thing to fall out of the sky, but I was determined to get the image. In order to get the angle though, it was necessary for the drone to be about three football fields away, and with the wind, I had visions of having to sneak onto some property to retrieve a smashed up toy I paid handsomely for.
What's next?
In 2017 I'm going to try and divert a larger portion of my focus to video related projects, perhaps with a journalistic flare. I also intend to spend more time with macro photography and with the addition of a lens extensible to 800mm, I will be looking for opportunities to photograph wildlife during some of my inevitable spring and summer adventures.
If you're interested in collaborating or adventuring with me this year, let me know. I'd love the company. You can find me on Twitter and Instagram. Here's to surviving another year. Cheers.