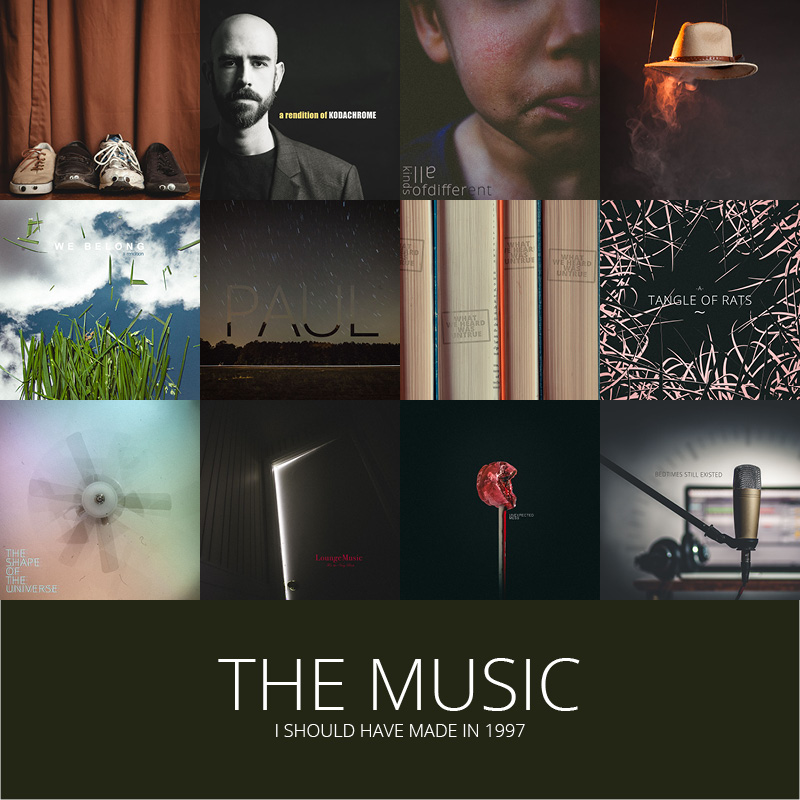 Download the whole album for free here
2016 was an important year for me. I gained a lot of headspace by making some bad decisions with my business (don't try and outsource your business's attitude, it won't work). But, thanks to that questionable headspace, I was able to meet a variety of personal goals which are less overtly, but no less importantly, woven into my efficacy in business. So, like usual, regret wouldn't be the right response, but not exactly the wrong one either.
As I recently explained in a post on petruzzo.com, I have always had a tendency to fall for the allure of the sole-solution. Or the "magic bullet" as I call it. The idea that something, some one-thing, is somehow holding the keys to all the challenges or difficulties I face. "If I just lived in this city…", "if I just posted on social media more…", "If I just had a dedicated studio… ", "If I just…". While it might be right very rarely, any rational adult can see how that kind of thinking doesn't make sense in the long run. Every long term effort requires that we focus on a variety of different things over time. That sole-solution doesn't exist, and I suspect it might be part of a bad habit left over from constantly searching for a finish line. You get tired, and start feeling desperate for something to end, and your mind latches onto the first good-ish idea it gets and starts thinking this is it! But it's not, and things continue to ebb and flow the way they always do, meanwhile you've stopped paying attention to some other crucial activity.
So professionally, this sort of reflection has consumed much of my mind. It's a regressive mental habit that makes it more difficult and emotionally tumultuous to run a business, and in 2015 I put a concerted effort into being more conscious of the magic bullet syndrome. And, while I was definitely more conscious of it and did not allow it to hinder me as severely has it has in the past, it's fitting that the year should end with the revelation of another magic bullet I've been trying to use. Whose surprised by that though, really?
Personally, 2015 in art was almost all about music. Writing tunes that I would want to listen to has been a kind of pipe-dream of mine since I was a kid, and last year I finally did it. As someone with an aptitude for visual art, stuff with sound was intimidating. But as the year went on, I became a lot more comfortable in the medium. I started to hear sounds and wonder about their frequencies and notice repetitious noises in the environment. I began to hear the separate notes in chords, rather than just the chunk all together. I also took to recording interesting noises I came across, though haven't come up with anything to use them for.
What was especially interesting was the rise and fall and rise again of the project process. This was the first time I'd set a firm goal around something I was still figuring out, and knew I'd be making public. That sort of thing usually makes my skin crawl. But not with this. Perhaps it was the total void of expectations and the fact that I'm not a musician, but somehow making an ass of myself with music just doesn't seem as threatening as say, making an ass of myself with a camera. In that way, this was really quite therapeutic. Like a vacation from my ego or something.
I'd like to thank those of you who listened to this drivel all year and said nice things anyway. I appreciate your support, inspiration & motivation.
A project for 2016 is well in the works and you can look for that at the end of January!