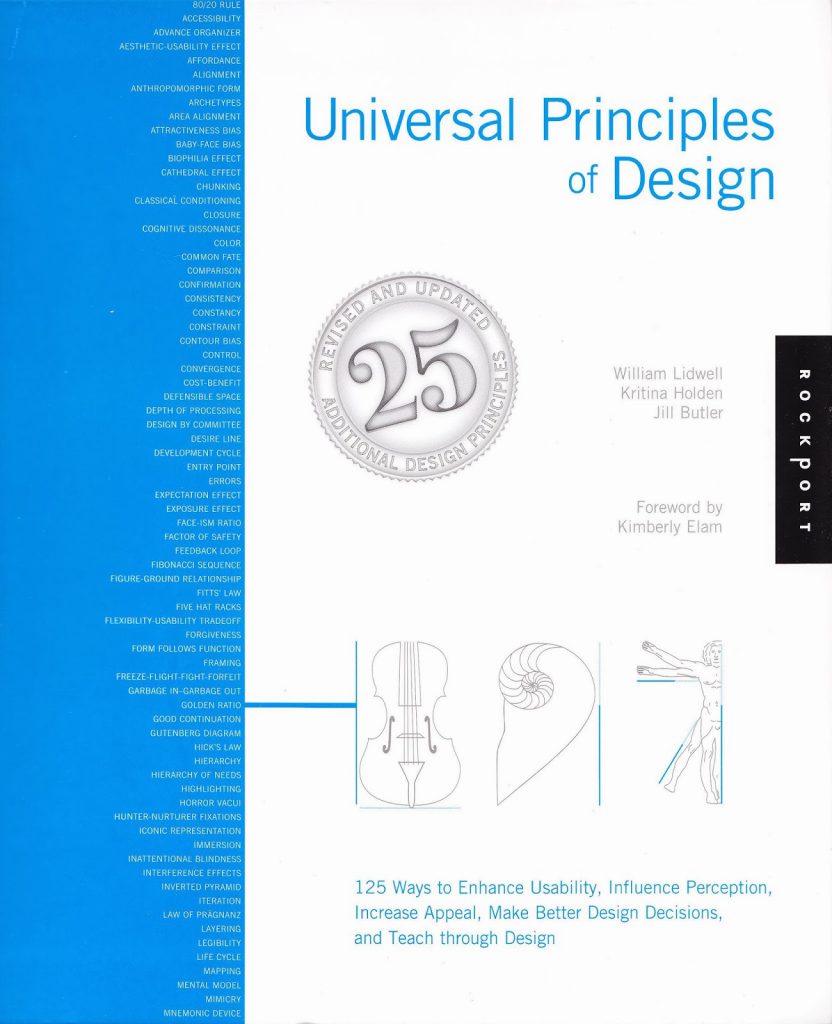 It's not quite a textbook, and not quite a dictionary.
The Universal Principles of Design by William Lidwell, Kritina Holden and Jill Butler is reference material for designers, and those who need to work with them regularly. Its aim is to bring some unity to design principles which span disciplines.
I'll admit that when I picked up the book I was hoping for a look at art principles, but these are definitely design principles. That is, principles that apply specifically to creations that are to be used in some particular way. Of course, art and design overlap a lot, so I read on.
The topics covered are an interesting mix of human nature, psychology, aesthetic principles and functionality. However, the book is organized in an obnoxious way for someone who wishes to read cover to cover. Principles are organized alphabetically. Reading from front to back is disjointed and challenges the ease at which concepts can be related in the memory. Helpfully, there are two contents listed: one in alphabetical order, and one categorical. I am imagining that reading through categorically would have been a much more stimulating experience.
In the more useful categorical index, the principles listed answer these questions in an approximate sense:
How can I influence the way a design is perceived?
How can I help people learn from a design?
How can I enhance the usability of a design?
How can I increase the appeal of a design?
How can I make better design decisions?
If you're someone who's job in some way involves design, those are all questions that cause the ears to perk up. Perhaps it is because the sections are truly disjointed from one another that the authors chose to organize them alphabetically. The text and ideas do not flow from one to the next, even with closely related topics.
The writing is simple and clear. Complete principles are broadly understood in just a few paragraphs. The visual aids are usually excellent as well.
In Conclusion
If you're someone who works with designers–that is people who create for use, not so much people who create for emotional evocation–then this is a text that will probably help you communicate with them better. For people who have been working in design, it's all very simple. But, acting as reference material, it could improve their ability to communicate design principles to clients and so make them better clients.